FIND USED LAND-ROVER PARTS
Would you like to buy used Land Rover parts? Then this is the correct place for you. Our used parts are of high quality and affordable.
Land Rovers were initially manufactured by Jaguar Cars; however, BMW was bought out. In 1999, the name was changed to Jaguar Land Rover. It is an off-road vehicle that has been around since then and is still popular today.
Land Rover Used Parts are available from us, including: spare tires to engine components, suspension parts, interior parts, wheels, exhausts, bumpers, etc. The list goes on and on! Buying our used parts rather than buying new ones will save you time and money. They are usually cheaper and easier to install.
We are the no1 seller of used Land Rover parts in the US. We have experience in this industry, and we know exactly what you're looking for.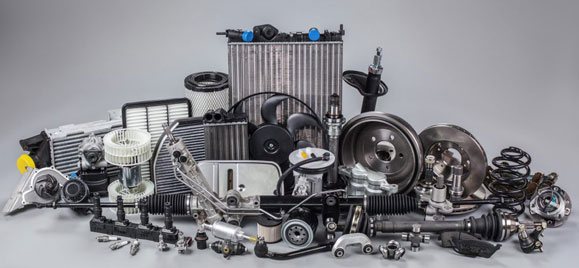 Benefits of Buying Land Rover Used Parts
Trinity Car Parts has made it easier for people to instantly buy Land Rover Used Parts through its services. Comparing the prices of Used Land Rover parts Online will help you save a lot of money. When you are shopping for auto parts, you can even look through the product description to identify the VIN number of each component. Land-Rover used parts are listed alphabetically on our website so you can quickly locate the part you need.
Finding replacement parts for your Land Rover can be a stressful and expensive exercise. With thousands of websites and auto outlets selling a wide range of components that claim to fit every make and model, it is easy to fall into the trap of buying inferior products. At Trinity Car Parts, we recommend using genuine Used Land Rover OEM Parts and accessories for your vehicle. 
Why Choose Trinity Car Parts?
Trinity Car Parts provides high-quality products at reasonable prices. With our experience, we understand the needs of customers. Therefore, we will always strive to deliver value for money.
To ensure that you receive top-quality products, Trinity Car Parts only uses those suppliers who meet our strict standards.
If you want to save money by buying second-hand goods, then why pay more than you have to when you can get good quality
Excellent customer service.
Fast delivery.
Easy payment methods.
Free shipping.
24/7 support team.
Good after-sales service.
No hidden fees.
All orders are shipped discreetly using plain packaging.
Quality assurance and testing before dispatch.
All products come with a warranty.
Our website will help you find exactly what you need. Browse around and find what you're looking for.If you don't see it here, please do not hesitate to ask as we may have it somewhere else.
Land-rover Freelander
Land-rover Land Rover
Land-rover LR2
Land-rover LR3
Land-rover LR4
Land-rover Range Rover
Land-rover Range Rover Sport
ABS System (Anti-Lock)
AC Compressor Clutch
AC Evaporator
AC Selector
Air Cleaner Box
Air Injection Pump
Alternator
Automatic Headlamp Dimmer
Axle – Rear
Axle Housing
Axle Shaft
Backup Lamp
Bell Housing
Body Control Module
Brainbox (Not Engine)
Brake Proportioning Valve
Bumper – Rear
Bumper Reinforcement – Front
Camera/Projector
Car Window Lifter
Carburetor
Carrier Case
Clock Spring
Clutch Master Cylinder
Coil – Engine
Column Shift Lever
Column Switch
Computer (Engine)
Condenser Fan
Control Arm – Lower (Front)
Control Arm – Upper (Front)
Convertible Top Lift
Cooling Fan
Crankshaft
Cruise Switch
Cylinder Head
Dash Panel
Decklid
Differential Assembly
Differential Flange
Differential Side Gears
Distributor Coil
Door Assembly – Rear
Door Glass – Front (Side)
Door Lock Control Module
Door Vent Glass – Rear (Side)
Door Window Motor
Door Window Regulator – Rear
Drive Shaft – Rear
ECM/ECU (Not Engine)
EGR Maintenance Reminder
Electrical Switch (Door)
Electronic Control Module (Not Engine)
Engine Assembly
Engine Computer
Engine Oil Cooler
Exhaust Manifold
Fan Clutch
Filter/Water Separator
Floor Shift Assembly
Fog Light Stalk
Front Axle I-Beam (2WD)
Front Bumper
Front Clip
Front Door Glass (Side)
Front Door Vent Glass (Side)
Front Fender
Front Spoiler
Front Window Lifter
Fuel Filler Neck
Fuel Injection Parts
Fuel Pump Control Module
Fuel Vapor Canister
Glove Box
Grille
Head Light Assembly
Head Light Motor
Head Light Wiper Motor
Headlamp Washer Motor
Heater Core
Heater or Air Conditioner Parts – Misc.
Hood
Hub Brakes
Idler Arm
Instrument Cluster
Intercooler
K-Frame
Knuckle Support
Leaf Spring – Rear
Locking Hubs
Lower Control Arm – Rear
Moon Roof
Oil Pan
Overdrive Unit Transmission
Pitman Arm
Power Steering Assembly
Power Steering Pump
Power Supply Control Module
Pressure Plate
Quarter Glass
Quarter Window Regulator – Rear
Radiator Cooling Fan
Radiator Fan
Radio/Audio Cowl
Rear Axle
Rear Bumper
Rear Clip Assembly
Rear Door Glass (Side)
Rear Fender
Rear Lower Control Arm
Rear Side Lamp
Rear View Mirror
Rear Wiper Motor
Rocker Arm
Roof Glass
SAM Control Module
Seat Control Module
Seat Track – Front
Shock Absorber
Side Lamp (Rear)
Speedometer Cluster
Spoiler – Front
Spring Hanger
Starter Motor
Steering Column
Steering or Suspension Parts – Misc.
Steering Wheel
Stub Axle – Rear
Sunroof Motor
Supercharger
Suspension Control Module
Suspension Trailing Arm
Tachometer
Tailgate Hinge
Tailgate Window Regulator
Tail Panel
Temperature Control Module
Tie Rod
Timing Cover
Torque Converter
Trailer Hitch
Transfer Case Adapter
Transmission
Transmission Crossmember
Transmission Pan
Trunk Lid Molding
Turbocharger
TV Info Screen
Upper Control Arm – Front
Vacuum Pump
Valance – Rear
Voltage Regulator
Wheel
Window Lifter
Window Regulator
Window Regulator (Tail Gate)
Window Regulator – Rear
Windshield Washer Motor
Windshield Wiper Arm
Wiper Motor (Windshield)
Wiper Motor – Rear